Click on Songs to Listen
Give It All U Got!!

On Sale Now!

Contact Us : trueviberecordshop.gmail.com
________________________

Paradise Presents

JAZZ FUNK HIPHOPOETRY

______________________

PARADISE WORLD'S FAIR

www.2012worldsfair.wordpress. com

PLANET OAKLAND-A NEW MOVEMENT

planet_oakland@yahoo.com

EMAIL: pdise18@yahoo.com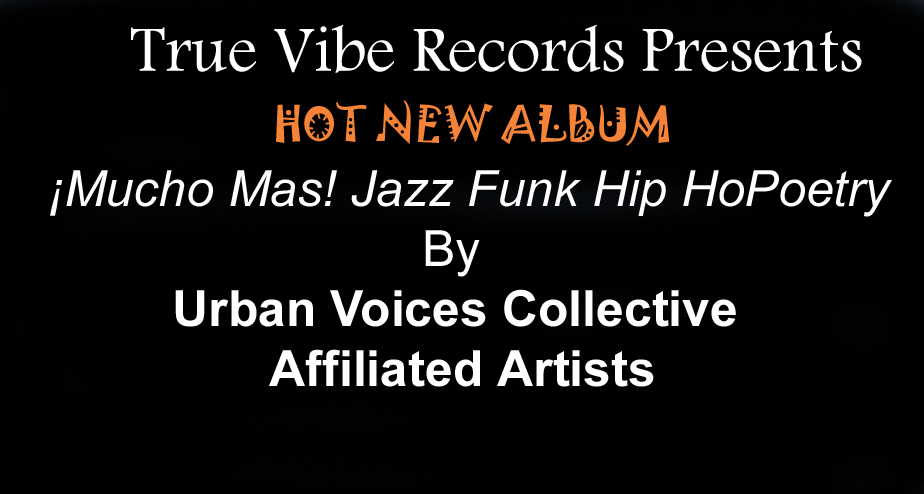 | | | |
| --- | --- | --- |
| | Featuring Bay Area Artists | |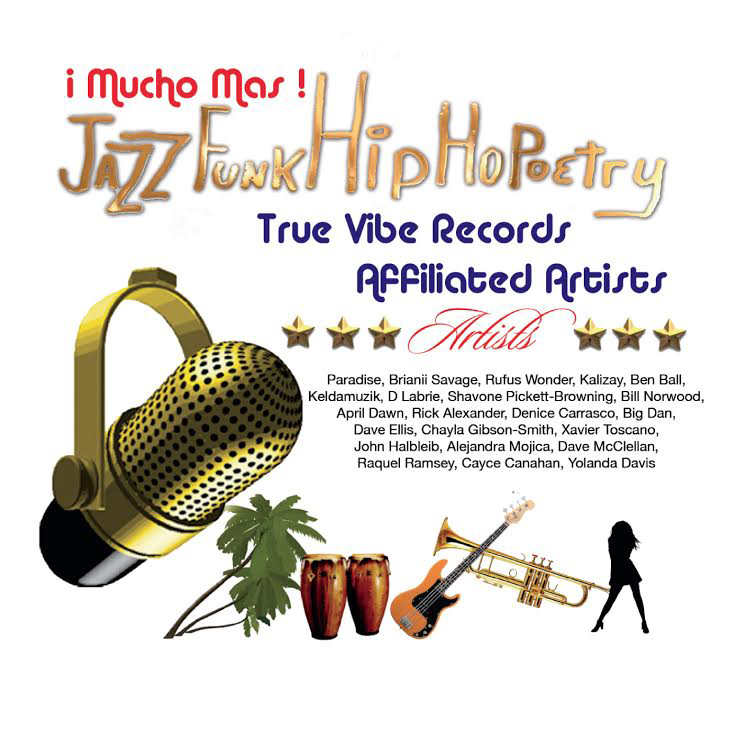 | | | |
| --- | --- | --- |
| | | |
| Bill Norwood -Percussionist | Brianii Savage-Vocalist | Ben Ball- Piano/Alto Sax |
| | | |
| Kalizay-Bilingual MC -Hip Hop | Paradise-Spoken Word | Keldamuzik-Hip Hop |
| | | |
| Chayla Smith-Vocalist | Rufus Wonder-Vocalist | Shavone Pickett-Vocalist |
| | | |
| Yolanda Davis-Vocalist | Bill Jackson-Producer | April Dawn-Vocalist |
| | | |
| Alejandra Mojica-Spoken Word | Big Dan-Spoken Word/Hip Hop | Denice Carrasco-Vocalist |
| | | |
| David McClellen-Vocalist | D LaBrie -Hip Hop | Rick Alexander-Vocalist |
| | | |
| Dave Ellis-Tenor Sax | Raquel Ramsey-Spoken Word | Cayce Canahan-Trumpet |
| | | |
| | | |
| John Halbleib-Trumpet | Melivin Bell-Tenor Sax | Byron "Bebop" Briggs-Trumpet |
| | | |
| | | |
Oakland-based True Vibe Records reached a new milestone when it released its newest and hottest album yet, titled ¡Mucho Mas! Jazz Funk Hip HoPoetry. This is the third in a series of CDs, following the highly acclaimed Paradise Presents Jazz Funk Hip HoPoetry and Jazz Funk Hip HoPoetry—Phaze 2. The title of this exciting 14-track project hints that many of these original songs have a Latin influence, along with fusion of Jazz Funk, R&B, Conscious Hip Hop, and Spoken Word. Jazz Funk Hip HoPoetry has developed immensely as a new genre of music since it's inception when producer Bill Jackson recruited Bay Area poet laureate/ slam poetry icon/ spoken word artist Paradise (who coined the name of this music) to collaborate.
Back to the top of this page


A diverse line up of top flight Greater San Francisco Bay Area artists affiliated with the non-profit organization Urban Voices Collective were recruited to contribute their musical gifts to create this unique album. They came from Oakland, Berkeley, San Francisco, Richmond, San Leandro, San Jose, Danville, Gilroy, and beyond with their creative juices overflowing with talent.

The red hot new on the scene Salvadorian MC named Kalizay is featured on the initial track with her sexy, sultry "Mucha Alegria," a cut that takes you on a mellow Latin hip hop ride describing fun times in Chicano culture. This bilingual hip hop artist lures listeners with her smooth style conveying subtle messages in English and Spanish about honesty and personal integrity in relationships, assuring that "I never lie to my sisters or the opposite sex." This song also pays tribute to Mexican-American heroes such as farm labor leaders Delores Huerta, Cesar Chavez, and Heisman Trophy winner from Stanford University/ former star Oakland Raider Super Bowl MVP quarterback Jim Plunkett. The lovely, talented Chayla Gibson-Smith sets the tone for this slow, dreamy groove with her soothing vocal in the opening. Kalizay and up and coming pop singer Xavier Toscano render sizzling hot romantic monologues in Spanish at the end. The album includes two versions of this song: an extended version and a radio edit version.

Get out of your seat and get ready to rock as the tempo picks up, with veteran classic soul vocalist Rufus Wonder leading a cadre of many artists in a call to action on "Uncle Sam's Goin' Broke." Over the lively hard-driving beat, blues/rock-style guitar and bass, and hard-accenting horns, this social protest song reveals snippets of life that reflect causes or have become the result of our challenging U.S. economy. The tension lightens though as a series of brief humorous monologues by Bill Jackson, distinctive bass vocalist Rick Alexander, Brianii Savage, Rufus Wonder, and Dave McClellan add comedic relief.


Bay Area spoken word legend Paradise shares some pearls of wisdom and provocative Afro-centric thoughts at the end, advising African Americans to "Occupy Black Wall Street!" The collective singing voices of Rufus Wonder, Brianii Savage, Bill Jackson, Denice Carrasco, Rick Alexander, April Dawn, Dave McClellan, and Yolanda Davis along with a monster saxophone solo towards the end by Ben Ball and Paradise's spoken word make this track an unforgettable treat. This song also has an extended and radio edit version.

"He-Done-Ism" takes you to a dark place of addiction to the sinister underworld of hard core drinking, drugging, pornography, prostitution, and gambling. Sultry vocals by singers Brianii Savage, April Dawn, Denice Carrasco, and Yolanda Davis kick it off with a chorus steeped in soul followed by the dreamy suggestive chant "I wanna feel goooood." Then without being overly preachy or moralistic, Bay Area hip hop star D Labrie the "EOG" (East Oakland's Greatest and known in Bay Area show biz as Mr. Network—also a representative of Hip Hop Congress, a non-profit organization very influential with young people) takes charge and runs it down, telling a story about life on the streets and getting caught up in self-destructive situations before seeing the light and finding peace of mind in recovery from addictions.

The album's fourth track, titled "Give It All U Got!" is a phenomenal trailblazing cut that promises to thrill listeners with its unique dazzling of Afro-Cuban/ Latin Jazz, R&B, Funk, Conscious Hip Hop, and Spoken Word. Sassy, sexy Brooklyn, New York native Brianii Savage (of Puerto Rican/ African American/ Jewish ethnicity) leads a dynamic call and response opening to a brand new version this fast, upbeat, inspirational song, encouraging people to live life to the fullest. Lovely and talented vocalists Denice Carrasco, April Dawn, and Yolanda Davis pave the way for lead vocalist Bill Jackson to take this groove to new heights while master percussionist Bill Norwood is the driving force. Listeners get a special treat when bilingual MC Kalizay uses her exotic style and smooth flow in both Spanish and English to prompt them to pursue their dreams and aspirations. She also praises "my brothers for breakin' the cycle of stereo-typin'." Then the party continues as slam poetry icon Paradise captures your imagination with his lofty visions of a "cultural world fair in Oakland" and a "United States of Africa." To take it on home, accomplished pianist Ben Ball (who plays many other instruments too) takes over with an incredible solo.
Back to the top of this page


Elegant songstress extraordinaire Shavone Pickett, premiere Bay Area female hip hop star Keldamuzik, and virtuouso alto and soprano sax man Ben Ball are featured on "Bold and Beautiful," a tribute to strong and beautiful women in general and strong and beautiful black women in particular. The late Tina Floyd sets the stage for this piece with her engaging background vocals. This album showcases a new version of this original song, taking it to a higher spiritual level. This piece represents the best example of fusing Jazz, Funk, R&B, and Conscious Hip Hop. Lyrics were written by Shavone Pickett and Keldamuzik, the music was composed by Bill Jackson, and Bill Norwood plays percussion.

For lack of a better word, this album has a "secret weapon" which is also the only instrumental on it. The classy Latin Jazz cut titled "Afro-Cuban Sax Brothers" features master musician Ben Ball playing brilliant solos on alto sax, piano, and soprano sax respectively. Producer Bill Jackson composed this piece as a tribute to saxophone players Ben Ball and Melvin Bell (also affectionately called "Mellow"), who are life-long close friends, former classmates, and graduates of the prestigious Berklee College of Music in Boston. Distinguished percussionist Bill Norwood once again assumes the role as the driving force behind this piece, which is reminiscent of many classic Latin Jazz tracks using strings and background horns. Not only is this song is great for listening, but it also makes you want to get up out of your seat and dance.
Back to the top of this page


Other outstanding tracks on this album include spoken word pieces "Cocoa Venus" and "Ain't Yo' Mama Black" by Paradise, "Let's Take a Ride" by Chicano spoken word/ conscious hip hop artist Big Dan, the sultry and romantic "Connections" by spoken word artist/ vocalist Raquel Ramsey (a friend and high school, college classmate of Ben Ball, who plays tenor sax on this one), "Social Emergency" by gifted Chicana spoken word artist Alejandra Mojica, and the somewhat humorous "Playaz Blues" featuring vocalist Rufus Wonder, hip hop artists D Labrie and Vendetta, with Chayla Gibson-Smith and Rick Alexander adding humorous monologues in the mix. Chayla Gibson-Smith, Shavone Pickett, and Doreen Ruffin's provocative conversation set it off. This song is a parody about the life of an aging player.

The earlier mentioned "Let's Take a Ride" represents dynamic spoken word at its best and is partially an autobiographical piece about the early troubled life of Big Dan living in the barrios and ghettos of Oakland before turning his life around to graduate from the distinguished University of California at Berkeley.

Special recognition goes to professional recording studio engineer "Smilin' James" Heyser", who did a monumental job of recording, mixing, and mastering the tracks. Special commendation also goes to talented graphic artist Earl Bickham, who designed the artwork for the album.

For more information about Rufus Wonder and Ben Ball, click here on the Features page. For more information about Paradise, click here on the JFHP page. For more information about Shavone Pickett, Keldamuzik, and Raquel Ramsey click here on the Meet S.O.U.L.S. page

Back to the top of this page
True Vibe Records Releases Follow Up to Landmark Recording,
Lead by "Squash it!" The Anti-Gun Violence Single
(Click on the photo below to preview video)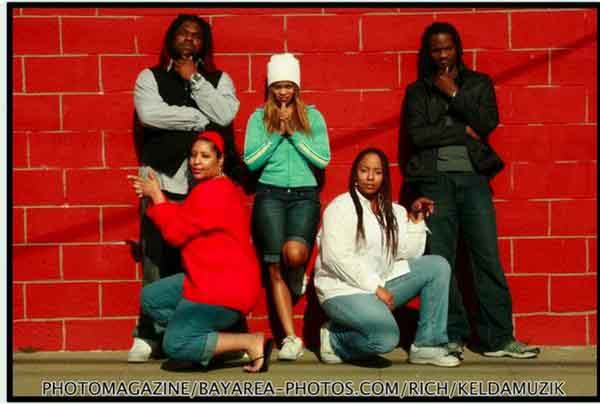 Sounds of Urban Life Soldiers
In early 2008, True Vibe Records released Jazz Funk Hip HoPoetry-Phaze 2, the follow up to the highly-acclaimed CD Paradise Presents Jazz Funk Hip HoPoetry.

The Phaze 2 release, a CD double set, was the debut for Oakland Ca.-based spoken word/hip hop group Sounds Of Urban Life Soldiers or S.O.U.L.S., as the acronym is spelled and their bulging fan base refers to them as. The group members and song writers are poets Raquel Ramsey, Keith Thompson, and President L. Davis, rap and hip hop artist Keldamuzik and songstress Shavone Pickett. Together, they have a very unique and diverse blend.

According to True Vibe Records owner and producer Bill Jackson regarding Phaze 2 he says, "as the genesis of the first CD was my pilgrimage to Senegal's Goree Island (a United Nations historical site in West Africa which was a holding pen for slaves), this music was born from the compelling social concerns that continue in America and is musically upbeat funk with jazz, hip hop, R&B and Caribbean influences."

The lead single Squash It! featuring Keldamuzik with guests D Labrie and Rufus Wonder certainly supports the concept of "social concerns" as it addresses the grave problem of violence in America's urban cities, and from early indications this seems to be the song that radio will embrace and help Squash It! be a part of the solution! Following that theme is On The Street, outlining the conditions and perils in some of our urban communities.

There are lighter more playful moments on the CD as with All The Above that again features Keldamuzik at the mic running down a love and relationship theme. Then there is the Caribbean-flavored I Can with vocalist Shavone Pickett delivering a very tender vocal with an almost dancehall track. Associate Producer Jam G "JR" Tall intensifies the groove with his lead guitar riffs. (He also was the chief sound engineer for this album.)
Back to the top of this page

The jazz lover isn't forgotten here with contemporary tracks like The Man Upstairs with its hip hop /trip hop feeling and a scorching tenor sax lead from guest artist Ben Ball and the pulsating drum work from Lorca Hart, son the legendary drummer Billy Hart, and on What Kind Of Dreams Have You which features guests such as the smooth-talking percussionist/spoken word artist Bill Norwood, renowned guitarist Calvin Keys, pianist extraordinaire Michael "Spiderman" Robinson, tenor sax man Ben Ball again, and veteran drummer E.W. Wainwright. This is a track that swings with the best of them!

All three poets are full of fire and earth moving emotion here addressing issues such as fatherhood with the piece The Role of Men by Keith Thompson and coming of age with Rites of Passage by President L. Davis, while Raquel Ramsey delivers supremely and passionately with a piece titled Connections and again on the exalting Apology, a duet with bassist Nelson Braxton (Braxton Brothers). There is more contemporary conscious-raising spoken word from the three poets of Sound Of Urban Life Soldiers on other tracks as well.

This album also showcases the talents of a host of highly-talented and dynamic guest spoken word artists such as Roxanne Hanna-Ware and poets Big Dan and Alejandra Mojica running down a Latino perspective.

Jazz Funk Hip HoPoetry- Phaze 2 is a well-balanced, well-crafted, and cleverly-written collection of urban life experiences and feelings delivered with the often pulsating bass line that locks everything in place and drives it home.

___________________________

This is what Urban Buzz Internet magazine wrote:

"Sounds Like Life. 'Squash It!' is the anti-gun violence single by Sounds Of Urban Life Soldiers 'Squash It!' is getting airplay at WJJN, KWZA, KJMH, WESE, WBAI and more!

Plus new this week at WLYX! "Squash It!' is from the forthcoming CD, "Jazz Funk Hip HoPoetry-Phaze 2" on True Vibe Records."
___________________________
©2006-2013 True Vibe Records
All rights reserved

website designed and maintained by PJz Web Designz